This article explains the importance of content marketing and keyword research to increase your visibility online. The more people who find your website the more potential clients you can gain. Learn how KeySearch is a tool that can help your business grow in this KeySearch review.
Disclaimer: Some of these links are affiliate links, which means when you sign up or purchase from these links we may receive a small commission at no extra cost to you. JK Nutrition Consulting is also a participant in the Amazon Services LLC Associates Program, an affiliate advertising program designed to provide a means for sites to earn advertising fees by advertising and linking to Amazon.com. Learn more in our disclosure statement.
I've been using KeySearch for a few years now and it has been my secret to learning how to drive traffic to my websites. If you are struggling with topics to write about or are looking for ways to increase your presence online, KeySearch is an affordable tool that can meet your goals.
This blog outlines how the combination of content marketing, search engine optimization, and keyword research can give your website traffic the boost it needs. What does this mean for your business?
It means more eyeballs on your website and ultimately more potential customers and/or clients.
This article will also give you a KeySearch review that will go over all this tool offers to increase your online presence and grow your business.
Read on to learn the ins and outs of this keyword research tool, the pros and cons, how it ranks against other popular tools like SEMRush, Ahrefs, and Ubbersuggest, and all the ins and outs of what to expect before you make a purchase.
What is Content Marketing?
Content marketing is marketing that focuses on creating, publishing, and distributing content for a specific audience. Businesses use content marketing in the following ways:
Get attention from potential clients
Generate leads
Expand a customer base
Generate and increase online clients and sales
Increase brand awareness
Show authority or credibility on a specific topic
Engage readers and grow a community
The concept is to attract new customers and clients by creating and sharing free valuable content. It usually takes the form of blog posts. Businesses will write articles on topics about issues that will appeal to their target consumer.
It gives companies credibility and creates brand loyalty. It also increases the chances of someone becoming a client or customer in the future.
Nutrition Professionals Need to Have a Content Marketing Strategy
As a nutrition professional, you definitely need to implement a content marketing strategy. This is the best way to reach your desired target audience and turn them into customers.
Are you someone who wants to help people lose weight? Start writing about weight loss. Do you want to help people learn about mindful eating? Create blog posts around this topic.
How Can You Excel at Content Marketing?
Content marketing is a great strategy to increase your brand and gain new traffic to your website.
However, in order to excel at content marketing you need to implement search engine optimization (SEO) and keyword research.
Use SEO and Content Marketing To Increase Traffic and Customers
To increase traffic and gain potential customers you want your website to be seen in the search results. This means learning how to rank on the first page of search engine results.
The way to do this is by integrating SEO and content marketing. You may be wondering, "what the heck is SEO?"
SEO is short for search engine optimization. This is a marketing tactic where you write blog posts and articles around nutrition topics your ideal clients are currently searching for online. The higher your article ranks on Google, the more people see your website.
SEO content marketing will engage people with your website based on articles that answer their problems. The more people see your website, the more potential clients you will have.
As you build a relationship with readers through your content they will see the value of your services and want to work with you.
Keyword Research Improves SEO and Content Marketing
Keyword research is an integral part of content marketing and SEO. This tactic helps you find specific search terms that are being entered into search engines when looking for products, services, and nutrition information.
Keyword Research Helps You Figure Out What to Write
Do you ever sit down to write a blog post and have no idea what to say? Instead of guessing a topic to write about, keyword research will tell you exactly what topics consumers are already searching for.
Keyword Research is Done with Keyword Tools Like KeySearch
When I started blogging I had no idea about keyword research. Learning how to write blog posts around keywords helped drive traffic to my website.
In order to effectively do keyword research, I needed to use a keyword research tool. Personally, I have found a lot of success with the affordable keyword research tool KeySearch.*
Learn more about this awesome keyword tool below in my KeySearch review
*Some of these links are affiliate links, which means that I will earn a percentage of any sales, at no extra cost to you. Learn more in our disclosure statement.
What is KeySearch.co?
KeySearch is an easy-to-use web-based research keyword tool that can optimize your articles. This will help you rank on Google and other search engines.
Dan Pfeffer created KeySearch LLC in 2015. His aim was to make a top-of-the-line suite of SEO and digital marketing tools at an affordable price for everyone!
And he did a great job at this!
The KeySearch SEO tool is high quality and easy-to-use program that gets you results for just $14 a month!
It gives everyday bloggers and businesses the ability to get the best research at a greatly affordable rate.
Even if you are just beginning your blogging journey you can easily learn how to use these tools. No matter your niche you will be able to find keywords that can get your website seen online.
KeySearch also offers a FREE trial* on their site so you can get a feel for this tool before signing up. Read on to learn how you can get this awesome tool for this super-discounted rate of $14 a month!
*Some of these links are affiliate links, which means that I will earn a percentage of any sales, at no extra cost to you. Learn more in our disclosure statement.
KeySearch Features
The main features of this KeySearch review include the following:
Explorer tool
Keyword research tools
Competitive analysis tools
Youtube Research tool
Rank Tracking tool
Content Assistant tool
The next part of this KeySearch review will take you through each part of KeySearch. It will answer the question of how to use KeySearch as a tool to rank for certain keywords.
The Explorer Tool
Before you start with KeySearch you want to see how your website ranks. This will determine the score of keywords that you use. At the top of the screen, there is a toolbar. Click on the "Explorer" link.
It will bring up a page that has a box that you will type in your domain. Next to it is a box that says "Entire Domain" be sure that option is checked. Then click the search button.
You will then get a screen with a bunch of information. To the left, there will be a meter ranging from 0 to 10 that says "domain strength." This will tell how strong a domain ranks.
Next to that is the Difficulty Score to Target. This tells you what keyword score you should be looking for when you search for keywords.
The page will also give you the following information
Backlink Counts
Referring Domain Counts
Organic Ranking Keywords
Backlinks Overview
Top Competitors
Top Referring Domains
Ranking Distribution
Top Anchors
Backlink Counts
Backlink counts are how many websites are linked to your site. Backlinking will help improve your domain strength. Newer sites will probably have fewer backlinks.
Referring Domain Counts and Backlinks Overview
Referring domain counts show how many websites link back to your website. The backlinks overview gives an overview of how many sites have linked to your website in the past 12 months.
Organic Ranking Keywords and Top Competitors
Organic ranking keywords show the top five keywords a website is currently ranking. The top competitors are the list of websites that KeySearch sees as your direct competitors.
Top Referring Domains
The explorer tool will also give you a list of your top referring domains. These are the most popular pages on your website. These pages have the most backlinks
Ranking Distribution and Top Anchors
Last are the ranking distribution and top anchors. The ranking distribution gives you a breakout of where most keywords fall on a scale from 0 to 100. With 1 being the best. Anything over 100 is not ranking.
So once you plug in your website URL you can find your domain strength and target difficulty score. These numbers will help you determine which keywords you should be using.
Keyword Research Tool
To get back to the main keyword research tool you can click the home button or the "keyword research" button on the toolbar.
The keyword research tool lets you find keywords related to your niche and target audience. All you need to do is type in a keyword into the box and click search.
It will populate a list on the right-hand side of the screen with the following headings:
Keyword
Volume
CPC
PPC
Score
The keyword heading lists all the keywords attached to that search query. The volume heading stands for the monthly search volume. The monthly search volume tells how many times a month that word is being searched for on Google.
Next to the volume is the cost-per-click (CPC) and the pay-per-click (PPC) columns. These two numbers deal with the competition for paid advertising on Google. This is not related to SEO so you can ignore these numbers for now.
The last column is the score of the keyword. You will see a number as well as a color code for each keyword. This section stands for the keyword difficulty score. It tells how hard it is for your website to rank for that keyword.
KeySearch SEO Competition Scores and Colors
KeySearch has six different SEO competition levels and colors. They include
| | | |
| --- | --- | --- |
| Fairly Easy | 20 – 29 | Light Green |
| | | |
| --- | --- | --- |
| Easy-Moderate | 30 – 39 | Green |
| | | |
| --- | --- | --- |
| Fairly Difficult | 50-59 | Light Red |
| | | |
| --- | --- | --- |
| Very Difficult | 60+ | Dark Red |
As SEO changes so will the scores. This means that if you find a light blue ranking search term this month and next month it could be yellow or red.
If you are just starting out with your website, stick to scores that are very easy or easy-moderate. This means picking low competition keywords. These keywords scores will be light blue and green.
Find High Volume Keywords that are Easy To Rank with the Keyword Research Tool
When doing keyword research the goal is to find a keyword that has a high monthly search volume but a low keyword difficulty score.
High-volume keywords are those that are being searched a lot in a given month. The amount varies depending on how you ask. Some experts say that a good number is 300 or above. I have found easy-ranking keywords even as low as 90 can help drive a good amount of traffic.
So how do you find these keywords? Start with the home "keyword research" page.
Say your niche is digestive health and you want to write about "leaky gut." So you put the keyword into the search box. You will find there are 700 keywords related to this term. It also has a volume of 22,000. This means it is being searched 22,200 times a month.
This is a great search volume, but you need to also make sure the score is low enough for you to be able to rank.
This particular keyword has a score of 62. The dark red color tells you it may be hard to rank if you are just starting out with your website.
An easy way to avoid high-competition keywords is by using long-tail keywords.
Use the Filter in the Keyword Research Tool to Find Long Tail Keywords
A long-tail keyword is a keyword that is 3 or more words long. One or 2-word keyword phrases may be harder to rank. Using these longer words will improve your shot of ranking on page one.
Find easy-ranking long-tail keywords by using the filter tool on top of the screen. You want to filter out words that are searched less often per month.
How to Use the Keyword Research Filter Tool In KeySearch
The filter tool is near the top of the screen above the list of keywords.
When you click the button you will get a popup that contains the words, "Keyword," "Negative Words," "Number of words," "Volume," "CPC," and "Score," with a blank box next to it.
You should only be concerned with the "number of words" and "volume." You can ignore "keyword," "negative words," "CPC," and "score."
In the box next to the "Number of Words" put 3. Next to where it says "volume" put the number 90. You can leave the boxes next to each of these blank. Then click the filter button and close out of the filter.
This will filter out shorter keywords and keywords with less than 90 searches a month.
I've found using keywords with an average between 90 and 300 monthly search volume can bring in a good amount of traffic. The thing to remember is these numbers add up. So if you can rank for a few blog posts with a volume of 100 each the potential traffic is exponential.
After you add the information to filter the list hit the "filter" button. Then closed out the box by clicking the "x." You will have a new condensed list with just long-tail keywords.
Once you have your filtered list there are a few ways to sort out these keywords. The two you should be most concerned with are the following
Sort Long-Tail Keywords by Volume and/Or Score
If you want to see what keywords have the highest monthly searches you can sort it by volume. Click the heading that says "volume" to see the keyword list by the number of searches per month.
If you want to see the scores you can click the "score" heading to sort them that way.
These headings can be shown in ascending or descending order by clicking them an additional time.
Long-tail keyword keywords are one tactic for finding easier ranking high volume keywords. However, You don't always need to filter using just 3 words.
Cached Scores Feature in the Keyword Research Tool
When sorted by the "score" heading you can see many keywords show a score that is grayed out. This is a cached score.
You will need to click on the score to see what it actually is. The cache score can be close to the actual score but sometimes it is not. So for some keywords the cached score it may change when you click on it to see the actual score.
For example, now that we have filtered the section to show the lower scores we see we have one blue keyword that has a search volume of 110 and says "leaky gut in babies" and has a score of 14.
When you hover over it it says the score is "older than 30 days and needs to be updated." You want to click the word to see the new score. It is still blue and says it is now a score of 19.
This would be a great keyword to use if you are working with this age population.
As you move down the list you see there are other keywords that might be a good fit. If the score is cached you will need to check the updated score by clicking on the score.
For example, you see the keyword "How to Heal Leaky Gut Fast." It has a search volume of 260 monthly searches with a grayed-out score of 27.
You want to click the cached score to find the new score. It now shows a score of 33. That is still not a bad score and you be able to rank for it.
How to Find Multiple Keyword Scores with the "Bulk Check" Tool
If you want to check all of the keywords at once you can use the "bulk check" tool.
It is found on the right side of the toolbar. Click the checkbox next to the "keywords" heading. This will select all 324 words. Then click the "bulk tool" button to show the scores of all the keywords listed.
Personally, I don't like using this tool because I am afraid of clicking something that I do not want to check. Also, with the monthly plan, you get only so many daily credits. You may waste your credits using the bulk search tool.
I like to keep track of the words one by one instead. This way I do not go over my credits.
Use Easy Blue and Green Scored Keywords to Improve Rankings
You can continue to scroll and see what words also might be good. Below there is another keyword that might be good. It states "L-glutamine leaky gut." It has a monthly volume of 1600 which is very high.
When I click to update the score it comes down to 32 and is green. For my domain ranking, this score would be good to use.
Unless your website has a high domain strength be sure to stick with the blue and green scored words. This will give you a better chance at ranking on page 1 of the search results.
Search Trends in the KeySearch Research Tool
To the left of the keyword list, you will see a box that says search trends. This is a glimpse into what months this keyword is being searched for the most.
For the word "Leaky gut" you can see it is searched pretty evenly except for the last four months of the year.
Sometimes keywords will be seasonal and searched more in certain months than others. This is seen with words that revolve around holidays.
Search Engine Results Page (SERP) Analysis Section
When using KeySearch you also want to take into account the SERP analysis section on the left of the Keyword Research Tool page. SERP stands for Search Engine Results Page.
The SERPs provide information on what sites are currently ranking for a particular keyword. SERP analysis is one of the parameters used to determine KeySearch's difficulty score.
The SERP analysis table has a lot of colors. These indicate different levels of strength for varying metrics. Light to dark green is weaker than the stronger regular and dark red colors.
SERP analysis table also provides another layer of information in your keyword research.
Initially, if you find a keyword that is high-volume, low-difficulty you may think it is a great term to use for your blog if it meets your website's keyword score to target found after running the Explorer Tool for your site.
However, some easy keywords may still be a challenge to rank. Before we go into all that in the "How to Use the SERPs Analysis Table" section here is a breakdown of the parts of the SERP analysis table:
Moz Page Authority (PA)
Moz Domain Authority (DA)
Domains (Doms)
Domains to Domains (DomsD)
Auth (dofollow links)
Links (backlinks)
URL
Moz Page Authority (PA)
Moz Page Authority (PA) is the authority for the specific URL. It is a metric developed by the company MOZ. It rates the overall ranking strength potential of that specific page on a scale from one to 100. The higher the score the stronger the ability to rank.
Moz Domain Authority (DA)
This is the authority for the whole website or domain. It shows how the strength of the website's ranking ability. Having a high DA will help pages rank better. This can happen even when individual pages might not be as strong.
Domains (Doms)
The domains or Doms column shows how many different website URLs are linking to a particular domain to the given URL. The more unique linking domains there are, the higher the backlink profile potentially a stronger page.
Domains to Domains (DomsD)
The Domains to Domains or DomsD column shows how many different unique domains are linking to the entire domain of that URL. The more websites that are linking to that URL the stronger the individual page.
For example, if the URL is Amazon, the DomsD will show the number of domains that are linking to the entire amazon.com domain.
Auth (Dofollow links)
Auth stands for "authority passing links." These types of links are website pages that are linked to a particular website page. They are also called "dofollow" links.
Dofollow links pass on what is called "link juice" from one site to another. This refers to value or equity passed from one page to another. Having a lot of auth dofollow links from high-ranking sites shows search engines your website is of quality and worth listing on page one.
Having a lot of dofollow links from high-ranking authoritative websites will help increase your own website's domain authority.
Links (Backlinks)
The word "links" stands for backlinks. This is the total number of links that are going to the website. This includes those that are passing authority (dofollow) and those links that are not passing authority (nofollow).
URL
This column indicates if the exact keyword match was found in the actual URL seen on Google.
How to Use the SERPs Analysis Table
Even if the keyword score is blue or green it could still have a hard time ranking if the first page spots are held by sites with a higher DA. You can find this out in the SERPs analysis section.
You should be most concerned with the PA and DA in the SERPs sections. This will show the authority of that particular post or article. It will tell you how easy it is for your site to rank for that keyword.
Be most concerned with PA and DA in the SERPs section. This will tell the page authority for that post. The DA will tell the authority of the whole website.
SERPs are also very important to take into account along with the keyword score. This is because it shows how likely a site can rank for that word.
It is also color-coded so you can tell by looking at the color to see if the keyword is easy or hard to rank. If you see a yellowish or red color under the DA and PA sections it may be a harder word to rank for.
If you see green or blue with a score under 30 it may be a better keyword to check.
For example, the keyword "collagen for leaky gut" shows the top 10 page results to have 7 websites with a green page authority. There are also 5 websites that have a green domain authority. This shows it may be easy to rank for this particular keyword.
The SERPs Section Tells You The Context of the Keyword
SERPs also tell the context of how a keyword is being used. Be sure to use it the same way it is being used on Google. You can check this by seeing the types of content that are listed on Google's first page results.
You can double-check the current SERPs by using the "incognito" page on Google Chrome.
This is found going into "file" then "new incognito window." You will get a black screen. You can type in the search term and see what comes up.
Once on the "incognito" page type in the keyword and hit enter. You will see a visual carousel, the top related questions, and the top 10 ranking posts.
Sometimes the keyword may not be suitable for a blog article. For example, if the word "protein bars" brings up just websites to purchase these products. Since the search intent is for shopping you may not be able to rank with an article on this topic.
If there are a lot of yellow and red in the SERPs section you may not want to use that keyword. This tells the websites have stronger authority and you may not be able to rank for that keyword. Look for keywords that have more GREEN DA and PAs in their rankings.

Also check the context of how the keyword is being used on Google to know if it is something you will be able to rank.
Summed Stats of the Search Engine Results Page (SERP) with Links Score
KeySearch has added a new feature to the Keyword Research Tool page: the summed stats. Summed stats are a culmination of the highest and lowest SERPs. This includes the regular info that is in the original SERP table such as the
PA
DA
Doms
DomsD
Auth
Links
It also includes a new ranking known as the "links score." The links score is a ranking that uses just one metric to determine a score. So how many linking domains a website has on page one will determine your ability to rank for that keyword.
The Links Score ranges from zero to 100. Keywords with higher link scores will be harder to rank.
This metric is similar to the keyword difficulty score found in Arefs. However, Links Score has only one metric and should only be used as a secondary source when finding keywords to the normal keyword difficulty score.
Below is an example of the Summed Stats and Links Score for the keyword "Best probiotic for leaky gut." For this keyword, you may need to have 12 websites linking back to your domain in order to rank on the 1st page of Google.
Get Keyword Suggestions from the Keyword Research Tool
Under the "Keyword Research" column on the toolbar, there are a few dropdown options to choose from. These include:
Search Engine Keyword Suggestions
Quick difficulty
My lists
Brainstorm
Search Engine Keyword Suggestions
Below the SERP table on the left-hand side of the Keyword Research page
Quick Difficulty Tool
The quick difficulty keyword tool is found under "keyword research" in the menu bar. This is a good way to see how you would rank for your competition's keywords. If you have a competing website using a particular keyword you can see how difficult it would be for your website to rank.
You can search by one keyword at a time or put in up to 50 keywords at once. Just be aware that you will be using credits for these keywords. So if you have only so many credits per day just be careful how you use them.
Type in the keyword(s) then click the "search" button to see the search trend results.
A new page will open showing the search trends and a score for those typed-in keywords.
This section can also give you SERPs for the requested keywords. Just click on the score to see the SERPS.
Keyword Research Tool Keyword Difficulty Checker Chrome Extension
The keyword difficulty checker tool can also be utilized through the Chrome extension KeySearch Keyword Difficulty Checker. With a KeySearch subscription, you can check the difficulty score of a keyword from your Chrome browser without using your KeySearch login.
To activate this you need your KeySearch API key which is found on the settings page within your account. Once you get the API you will need to add the extension to your Chrome extension.
To do this you will go to Settings on your Chrome browser. Then go to the "extensions" under the "more tools" section.
It will bring up a page where you need to type "KeySearch" into the toolbar. Then the "keyword difficulty checker tool" will pop up. Make sure the button is turned on. This will activate the extension.
To find the keyword score you need to open a new window on Chrome. In the toolbar type the keyword you want to find information on. Then hit enter.
To bring up the score of that keyword you will then need to go to the extensions toolbar on the top right side of the browser.
It will open a list of Chrome extensions. Find the "KeySearch" extension and click. You can also add a shortcut when you click the thumbtack to the toolbar if you click the thumbtack.
This will open the KeySearch Difficulty Checker extension. To check the score of the keyword you searched you just need to click the "check the competition now" button.
It will bring up a box that says "KeySearch" and will have the keyword score and the SERPS.
My Lists in the Keyword Research Tool
"My lists" is found under "keyword research" in the menu bar. It is a way to keep lists of keywords you may want to use in future articles. From your keywords result on the "keyword research" page click the check box next to a keyword you want to save. Then hit the "save keywords" button.
It will bring up a box that says "manage lists." You can select a new list or add to an existing list from the drop-dox menu. Then click the "add to list" button.
To access the saved keywords you need to go to the "my lists" link under "keyword research." It will bring up a screen with the lists on the right and the keywords and their score on the left.
If some time has passed since you saved the keyword you may need to update the keyword to find its current difficulty score. KeySearch will usually have a pop-up that asks if you want to recheck the score.
Brainstorm in the Keyword Research Tool
Brainstorm is found under "keyword research" in the menu bar.
This tool helps you find keywords that are ranking on different search engines. It also gives information on where that keyword and other related keywords are trending. It lists search engines like Google, Yahoo, and Bing, as well as keywords on YouTube, Amazon, eBay, and Twitter.
If you type your keyword into the box and hit the "search button" you will get a list of related keywords on and where they are trending.
Competitive Analysis Tools
If you're interested in seeing how your competitors are ranking you want to check out the competitor analysis tools. These are under the "competitive analysis" section on the toolbar. When you click it you will see the following in the dropdown:
Backlink checker
Organic keywords
Competitor Gap
URL metrics
Page analyzer
There are additional competitor analysis tools that can be found on the toolbar including:
Rank tracking
Keyword difficulty checker Chrome extension
Youtube research
Backlink Checker
The backlink checker can be found under the "competitive analysis" tool on the menu bar. This is a great way to see who is linking to your website. It can also show you what backlinks your competitors are getting.
There is a pie chart showing the top words that are used to link your backlinks. You have the option to view the top 20 of these anchor texts.
There is also a new "Found Links Trend" chart. This tells you which backlinks are connected to your domain at that time. It shows a list of all the dofollow links that are sending you link juice.
KeySearch has a metric called "Domain Strength." There is a meter that shows the strength of your own website domain from 0 to 10. It also shows the domain strength of websites that are linking to your site. This will tell you how much link juice is being sent to your website.
The more high-ranking strong domain sites that link to your website, the stronger your own website will become.
Organic Keywords
Getting more traffic to your website can be easy when you know what keywords your competitors are using to rank on Google. Organic Keywords tools in KeySearch give you the ability to find what keywords competitor websites are currently ranking on search engines.
This can help your own posts get seen on Google. There are four ways to find these ranking organic keywords. They are as follows:
Use "Competitors Keywords" to find Your Own Keywords
The second way to see your competitor's keywords is by using the "Competitors Keywords" option in the Keyword Research section on the homepage. Next to the box where you type in a keyword, it will have a dropdown menu where you can select "Competitors Keywords." Use that search type to find organic keywords.
This tool finds keywords other websites are already ranking for in the top 100 search results of Google. It will only give you keywords that are actively being searched. Keywords with no search history will not be included.
The nice thing about this tool is that it gives you a difficulty score for that word so you can see if it's something you can rank. So it saves a step in having to go back and do keyword research for that particular keyword.
The downside is that it may use up your credits. So if you are not sure you want to actually use the keyword then you may want to use one of the three other Organic Keywords tools to find what your competitors are doing.
Use the Explorer Tool to find Keywords
The Explorer tool is on the search bar menu. When you click it will bring up a page with an overview of your domain's stats. You want to type in your competitor's URL and choose if it's the "entire domain" or "specific page" from the drop-down menu. Then hit the search button.
There is a box under the domain strength area that says "organic keywords." If you click the "view keywords" button you will see all the organic keywords that come up for that URL.
it will show you the position, volume, traffic, CPC, and the URL attached to that keyword if you are looking at the whole website domain. You are only concerned with the position, volume, and traffic.
From that list, you can sort it by volume to see the keywords with the highest search volume. You can make a list of what keywords are ranking for your competitors. These words can be then searched to see how your website will rank for them.
This tool is great because it can help you find additional keywords that competitors keywords that are ranking their additional keywords attached that might be helpful to include in your own article.
Use the Organic Keywords Tool to find Keywords
The Organic Keywords section is found under the "Competitive Analysis" section on the menu bar. This feature lets you see what keywords your competition is ranking for on a particular domain or blog post.
You will type or paste the URL into the box. Then to the right, there will be a drop-down where you can pick either "entire domain" or "specific page." This will give you keywords for just the page or the whole website.
Once you hit search it will spit out a list of keywords that the URL is ranking. It will give you the search volume and how much traffic is coming from that particular keyword.
The Organic Keywords feature is great for helping to find additional keywords you can add to your post to help improve your ranking.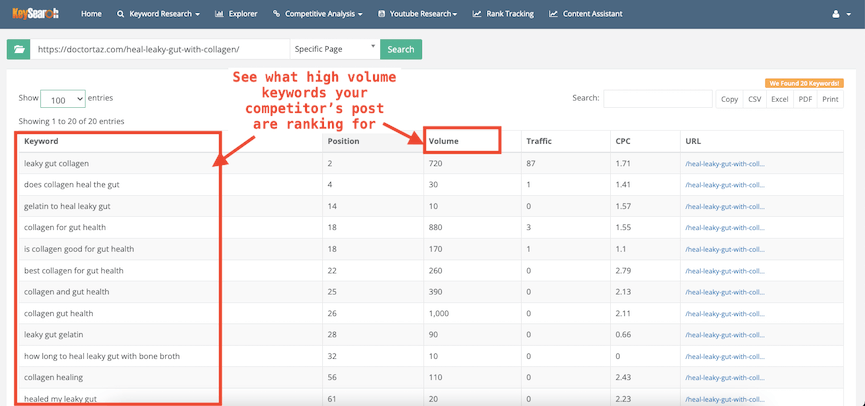 Use the Organic Keywords Tool to Find "On The Cusp" Keywords
KeySearch recently unveiled a new "Organic Keywords" filter. This feature may help you get more traffic to already published content.
This filter can show which keywords are on the cusp of making it to page 1 of Google. You can take this information and revamp the content to help it get to the top of the search engine's ranking.
To find out how your content is doing, on the organic keywords page, you want to put in your homepage URL. Be sure the "entire domain" button is on and finally set your filters by clicking the "add filters" button.
After you click the "add filters" button a pop-up opens up. In that box, you want to fill in where it says "rank" with the number 11 in one box on the left and 20 in the box after the "to." Then click the "filter" button and close out the box.
This will give you a list of posts on your website that have keywords that are ranking in the 11th to 20th position. The content that comes up is stuff that Google likes but is not ranking on page one yet.
The content that is delivering "on the cusp keywords" can be tweaked for a better Google ranking and/or work to get more backlinks to give it more SEO juice to improve its current search engine placement.
Use the Competitor Gap Tool to find Keywords
The fourth way to find organic keywords is using the Competitor Gap tool. This tool is under the "competitive analysis" section on the toolbar. It can be used to find competitors' keywords, compare competitors, and measure your site verse competitors.
It compares up to three websites to show which keywords competitors are ranking for and which keywords your website is falling short of.
The page will show
Your competitor's rankings
The Keywords they are ranking for
Offer new keywords you can target
When you bring up the page you will see a page with two separate search boxes. On the left, you will enter the competitor websites you want to check. Be sure to specify if it's for an entire domain or one specific page.
If you want to add more than one website you can click the plus sign to add more sites. You can add up to three websites max.
How to Use the Competitor Gap Tool
In the box on the left Place your own or a competitor's URL. Be sure to pick whether it is a specific page or the entire domain. Then hit the search button.
This tool will check for keywords the sites on the left are searching for and ones that the website on the right does not rank for.
If you need help finding websites to put in as a competitor you can go back to the Explorer tool and type in your website to find the top sites that show up as competitors.
The Competitor Gap tool is great if you are a NEW website. It can help pinpoint the exact keywords your competitors are already able to rank and words that you can use to get ranked on Google.
For example, my food blog The Radiant Root's competing sites include Allrecipes.com, FoodNetwork.com, and Epicurious.com. So I can use the Competitor Gap tool to see what keywords I need to rank.
After putting in these websites I see three columns for each website with the
Keywords that are ranking
The monthly search volume
The position each site is ranking for
The post that the keywords ranking on
You can sort them by search volume to find high-ranking words. Some keywords that come up for these sites that I am NOT ranking for include:
marinade for grilled turkey breast
how to make dressing from scratch
almond butter sandwich
Keep in mind the score of these keywords. Your competitors' website domain strength may be higher. These more authoritative websites will have an easier time ranking keywords with higher scores.
So check the difficulty score of these keywords before picking them to write articles.
URL Metrics
URL Metrics is a "competitive analysis tool" that will help you compare the metrics of multiple URLs at once. It is found under the "Competitive Analysis" button on the menu bar.
It will bring up a page with a blank box where you can type in 1 or 2 URLs then hit "search." KeySearch will then bring up information on each website URL. It will give you a bunch of metrics in one place including:
Page Authority
Domain Authority
Domain Strength
Total Backlinks Links
Dofollow Links
Alexa Rank
Rank Strength
Ranking Keywords
Domains Traffic
URL Ranking Keywords
URL's Traffic
This information can also be exported into a saveable PDF or CSV file.
Page Analyzer Tool
The KeySearch competitive analysis tool Page Analyzer will give a webpage review for a specific website. You will type in the URL in the box and hit the "analyze" button.
A report will come up with a score for that website. The score is out of 100 with that being the best. In a box, you will see the following with a score attached.
Page Authority
Domain Authority
Domain Strength
Alexa Rank
Total Backlinks
Keywords
Traffic
Dofollow Links
Facebook
You will see on the left side there is a box with various subsections showing how your site ranks for different facets of SEO. You can click on each of them to see them individually or you can find them as you scroll down the page. They include the following:
SEO Content
SEO Links
SEO Keywords
Usability
Document
Mobile
Optimization
PageSpeed Insights
SEO Content in the Page Analyzer Tool
SEO Content has to do with the actual content you are writing but it also has to do with other aspects of the webpage. These fall into the on-page SEO category. Having good on-page SEO is every aspect of a web page that can improve your Google rankings. Elements of SEO content include:
Title tag
Meta tag
Header and subtags
File names for images
ALT text for images
Title Tag
The keyword you want to rank for should be used in the title of your post. This is the title tag. It can be helpful for ranking on Google. It should be used to catch the attention of the reader and let google know what the blog is about. It is limited to 70 characters.
Meta Tag
The meta tag we are concerned with is the meta description. This gives a brief overview of what the page is about. It should include the keyword you want to rank for. It is usually 160 words so try to sum up what you want to say in a short amount of words.
This report specifically shows if the website is using Og Meta Properties. Og Meta Properties are Open Graph meta tags that control how web pages are shown on Facebook and other social platforms. These tell the social channel what the content is about. This can help to show up in search results.
Header and subtags show Google that your page is sectioned off in order of importance. This part of the report will tell if you are using headings and subheading tags properly. You never want to use H1 for the body of your articles. Always start with H2. You can also sprinkle ranking keywords into subheadings to help with SEO rankings.
Image Files and ALT Text
Images on your blog should have file names that relate to the keyword. The images section will tell if you are labeling your images properly to help with Google rankings. If you do it right your photos could also end up in the Google image search page.
ALT text refers to the tags that identify an image. For those visually impaired or if an image does not load you want to have an ALT text tag. This is a written description of the image to reflect the subject of the content. You can include the keyword to help with rankings.
SEO Links in the Page Analyzer Tool
The SEO Links area of the page analyzer is where it tells you if your URL contains your keywords. This is easy when your URL will contain the name of your title with the keyword phrase you are trying to rank for.
It will also show the other web pages that a specific website is linking to. They will include internal links to other parts of that website as well as external links that are linked to it. Having both types of links will increase your SEO power.
Your website should have external links both do and no-follow links. For example, if you have a research article you want to link to. That should be a do-follow link. However, an affiliate marketing product should be a no-follow link.
SEO Keywords in the Page Analyzer Tool
The SEO Keywords section has two parts:
Keywords cloud
Keyword consistency
The keyword cloud is the keywords that give a visual of what keywords are frequently used on your website and web pages. The bigger the keyword the more times that word is used.
Keyword consistency is using a keyword or keywords you want to rank for consistently throughout a blog post such as the main title, meta description, headings, and ALT text. It will show how your website is ranking with this consistency.
Usability in the Page Analyzer Tool
The usability section focuses on the URL, favicon, language, and font sizes.
The URL tells if your pages are optimized for the keywords you want to rank. The favicon tells if there is a graphic image associated with your website identity.
The language will tell Google what language your website speaks. The font size tells if your website displays legible fonts across different devices such as mobile.
Document in the Page Analyzer Tool
The document section tells if you are having issues with doctype, encoding, W3C validity, Email privacy, and deprecated HTML. It will also give you information on your website speed and what may be slowing it down.
Mobile in the Page Analyzer Tool
The mobile section shows if the website is optimized for mobile phones.
Optimization in the Page Analyzer Tool
The optimization section tells if Google and other search engines are able to index your website. This will help your SEO efforts to get you ranked.
Google PageSpeed Insights in the Page Analyzer Tool
This is the part that is pulled from Google's page speed tests that show how fast your website loads.
Based on your score you may need to work on improving some of these elements with a website SEO audit. The page analyzer will give you tips on how to correct any on-page SEO issues that may arise on your website. This will help improve SEO rankings.
Rank Tracking Tool
The keyword rank tracking tool is found in the KeySearch toolbar. This feature helps to track how your website is ranking for different keywords over a period of time.
If your page has no information on it you want to start by adding a domain to track keywords. Hit the "add domain" button on the right and type in your URL and hit the "submit button."
Your URL then should be listed under the URL heading. You track more than one website by adding more domains to the list.
Rank Tracking Keyword Overall Ranking
The Rank Tracking page will have an overview of how your keywords are doing. It will show a pie chart and list out the number of keywords in the top 3, top 10, top 100, and not shown on Google.
It will also tell you if there has been an overall change in the ranking. The red arrow will tell it's gone down. The green means the rank has improved.
How to Add Keywords to Rank Tracking
To find keywords to track you want to click the "we've found keywords!" button at the top of the screen. It will open a new window with the list of found keywords that are ranking. You need to click the words you want to track so they are selected by a blue check box.
Then click the "added selected" button to save them.
This screen will close and you will see the saved keywords listed under the following headings:
Rank
Change
Volume
Updated
Loc
Options
The "rank" column tells you how the selected keywords are currently ranking on Google. The "change" column will tell how it's changed over time. If there is a zero it could be because you just saved it and it is new. The "volume" column tells you how many people are searching that keyword per month.
If you have previously tracked a keyword and want to see updated information you will click the "updated" column. The "loc" column will tell you where it's being tracked. There will be a flag of the country.
The"options" column will have four icons:
Dark blue graph
Light blue circle with an arrow
Three rows of a yellow bullet with a line next to it
A red "X"
The dark blue graph shows a graph of how it ranks over time.
The light blue circle is what you click to refresh the status and see an update on the rank of the keyword. After you click the icon it will disappear.
The yellow bulleted lines will open a list of the top 100 websites ranking for that keyword
How to Track Ranking Keywords Locally
The "loc" tells the location where it is being ranked. If you want to see how your business is ranking locally you can just click the "localized" button on the pop-up screen under the "we've found keywords!" and "add keywords" buttons.
It will then give you a space to type in your location and will auto-populate the city.
Rank Tracking Gives you Only So Many Credits Per Day
Rank tracking uses credits so be careful with how many keyword rankings you choose. Tracking too many keywords may eat up all your daily credits. The starter plan gives you 80 credits per day to use. You can also purchase more credits as an add-on.
Content Assistant Tool
The KeySearch content assistant tool is found in the main toolbar heading. This section is great for helping you come up with content to add to your blog post. The main goal is to help increase your ranking and traffic potential on that particular keyword.
It shows what type of content Google is looking for on the top SERPs. Once you know what keyword you want to use. You go over to the content assistant and type it into the box. Be sure you are using the correct location. Then hit the "search" button.
On the left, you will see a blank screen that you can type into. On the right there is a bunch of information under 5 headings:
Main
Keywords
Research
Questions
SERPs
Main Tab within Content Assistant
The main tab pops up after you hit search. It will give you the following:
Keyword difficulty score
Word Count
Recommended keyword and word count meters
Must Words or latent semantic indexing (LSI) keywords
Keyword Difficulty Score & Word Count
The keyword difficulty score shows how hard it is to rank on Google. The Word Count tells you the average word count of the articles that are ranking on the 1st page of Google.
Recommended Word Count & Keyword Meters within the Content Assistant
There is also a recommended word count and keyword meters. The word count meter shows an average of words that should be used in the article based on the top 10 search results. The keyword meter consists of must and related keywords.
When your article hits the right amount of related and must keywords the meter will turn green when this has been reached.
Must Words or Latent Semantic Indexing (LSI) Keywords within the Content Assistant
Must Words or Latent Semantic Indexing (LSI) keywords are keywords and phrases relating to your original main targeted keyword, "leaky gut." In this case, it would be "collagen for leaky gut."
For example, you will sometimes see things like "all rights reserved" in the list of must-words. This is something that is usually on the bottom of every website page and can be ignored.
If you are curious how the Must Words are being used to shape your own article you can also individually check each word to see how it was used in the ranking articles. This is how you do it:
Click a word from the must list
A screen will open on the left with the ranking articles
Do a search and find (control F) to highlight the words being used
Keywords Tab within the Content Assistant
The keywords tab shows two topics: related keywords and top URL keywords.
Related keywords are Google's most suggested keywords shown in order or relevancy. These are the keywords at the bottom of the search results page. These phrases are helpful to include in your article to help increase rankings.
Top URL Keywords are the keywords that are getting the most searches per month. These keywords may be helpful to include in your article not only rank for your particular keyword but these other topics as well.
I like to check the top-ranking articles to see how they used each of these keywords. You can do that by clicking on the keyword. It will bring up the articles that are currently ranking.
If the MUST WORDS, RELATED KEYWORDS, and TOP URL KEYWORDS do not flow naturally into your article use them at your discretion.
Research Tab within Content Assistant
The Research Tab within the content assistant contains what are known as "content snippets." They are snippets of articles in the KeySearch database.
You can also look up the first page results by clicking the "SERP Top Pages" option. You can also use the "entire database" option.
To view the whole article, click the URL link under the synopsis.
These can help you research a topic but unless they are actual research articles I would not use them as a source in your article.
Questions Tab within the Content Assistant
The questions tab gives you ideas on what popular questions are found surrounding that keyword. Adding these questions can help increase your ability to be a "featured snippet" in the Q&A part of google search results.
They can also be used as subheadings in the article. It can be a good way to gain overall relevance on the topic. This can help with grabbing additional traffic since Google likes websites that answer questions.
SERPs Tab within Content Assistant
The SERPs Tab in the Content Assistant will give you an overview of Google's 1st-page results. It consists of the name, URL, and word count.
The Content Assistant Tool Can Help You Write an Outline
Once you go through the tabs of the Content Assistant section you will have additional information to write your article outline. You can write directly in the white box provided but it can be hard to edit.
The is good for making sure you have all the recommended keywords and questions listed in the
Instead, I like to pull the "Must Words" and write my article in google then plug it into the content assistant to make sure the meters are green.
Youtube Keyword Research
Another keyword analysis tool that Keysearch offers is the Youtube keyword research tool. It helps you find keywords that will rank on Youtube. There are 3 sections under the "Youtube research" heading on the toolbar. They include "Youtube Research," "Youtube Difficulty," and "Youtube List."
This area looks similar to the keyword research page. You type in the keywords you want to target and see how they score. You can also choose the location.
Search results will show the top 10 ranking videos with their stats and a difficulty score.
The difficulty tracker for Youtube will tell you how hard it will be to rank for that particular keyword.
Once you have your keywords picked you can save them and create Youtube keyword lists.
These will be found under the "Youtube List" in the drop-down menu.
SEO Crash Course
If you are still struggling with SEO you can check out their FREE SEO crash course to learn SEO from the ground up. This nine-part KeySearch tutorial provides the ins and outs of what you need to do to rank on Google. It provides courses:
Beginners guide to SEO
What search engines want
Keyword research
On-page SEO specifics
On-page SEO content
Link building overview
White hat link building
Black hat link building
Final overview (SEO tips and tricks)
Customer Support
Customer support is offered through a webpage with FAQ articles. There is also the ability to submit a ticket to the company. I have never had an issue where I needed to connect to customer support. There is also a phone number and email you can reach them.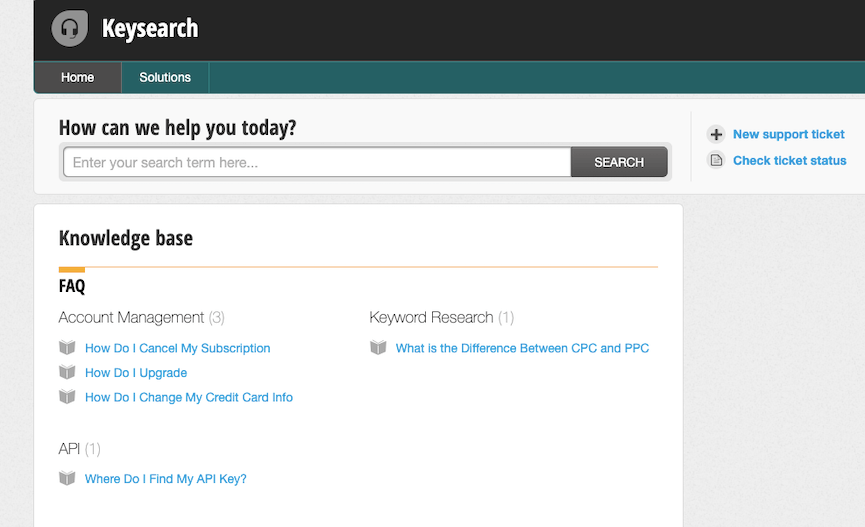 KeySearch Pros and Cons
Like any program, there are pluses and minuses found in this KeySearch tool review. Here is a list of the pros and cons of this program.
Pros of KeySearch
I've been using KeySearch for the past few years and I find it very helpful. Here are some of the pros of using KeySearch:
Cost-effective
New updates
Easy to use
Lots of tutorials to help in case you get stuck
Nice competitive features
Helpful information to optimize your rankings
Cons of KeySearch
I have yet to find many cons of KeySearch. There can be some discrepancies with the keyword data but this can happen with all keyword search tools. All keyword tool data are estimates so you can get these problems with any keyword provider.
I personally have not had any issues with KeySearch and find it to be a viable option for ranking on Google.
How Much Does KeySearch Cost?
There are 2 levels of KeySearch pricing. They consist of the STARTER and PRO packages. I am using the starter version. I've found this is enough to get a good amount of research done.
The STARTER is $17 per month and you get 200 searches per day with 50 rank tracker keywords.
The PRO version is $34 per month and you get 500 searches per day with 150 rank tracker keywords.
If you want to try KeySearch before you buy they offer a free trial with 5 searches per day. This is a great way to see how you like the product.
*Some of these links are affiliate links, which means that I will earn a percentage of any sales, at no extra cost to you. Learn more in our disclosure statement.
Save 20% with My KeySearch Coupon Code!
If you want to save on your KeySearch subscription use my KeySearch discount code KSDISC and get 20% off!
This will take the STARTER membership down to just $14 a month!
*Some of these links are affiliate links, which means that I will earn a percentage of any sales, at no extra cost to you. Learn more in our disclosure statement.
KeySearch vs. Other Keyword Search Tools
Various SEO tools reviews show additional keyword search tools that are also available to use. These KeySearch alternatives include Semrush, Ubersuggest, Ahrefs, and Answer the Public.
KeySearch vs Semrush
Semrush is a highly revered SEO tool. It is used by big companies and offers a lot of bells and whistles beyond just keyword research. It offers more in-depth site audits, advertising, and social channel management.
With those extras comes a bigger price tag. Their lowest plan starts at $99 a month. If cost is not an option and you want to get out of the gate with a highly in-depth program Semrush might be a good option for you.
However, if you are just starting out and want to feel your way through keyword research, KeySearch is a great cost-effective alternative to Semrush.
I've been using KeySearch and know a lot of big bloggers who are doing great with this tool. It has been so helpful to me in my business.
KeySearch vs Ubersuggest
Ubersuggest is a keyword tool created by SEO expert Neil Patel. He originally had offered this as a free tool but recently started charging. I think he still has a free option with a seven-day free trial.
I was using it back when it was free but have not used it since it became a paid tool.
The lowest plan costs $29 a month but it does not say if there is a cap on how many keywords you can search.
KeySearch vs Ahrefs
Ahrefs is similar to Semrush in that is a premium SEO tool. It is considered the gold standard of SEO tools. Ahrefs offers additional things that are not available in KeySearch like site audits, content audits, the broken link checker, and an Amazon keyword research tool.
With those bonuses comes a higher price tag. Their fees run between $99 and $999 a month.
Is KeySearch good as an Ahrefs alternative? In my opinion yes. They want to give their users a set of SEO tools that meet 99% of their customers looking to improve SEO at a lower price.
KeySearch vs Keywords Everywhere
Keywords Everywhere is a browser extension that can be used on Chrome and Firefox. It pulls search information from Google and Bing to give you the "related" and "people also search for" keywords. With these keywords, the monthly search volume, CPC, and competition data of keywords will be listed.
This keyword tool used to be free but then they started charging in 2019. The price is reasonable costing $1 for every 10,000 keywords. There are three levels of subscriptions. Starting at $10 you will get 100,000 credits that are good for up to one year.
While Keywords Everywhere is cost-effective it does not have as many features as KeySearch. There are also some discrepancies in the information.
Instead of relying solely on Keywords Everythwere, the free version can be used as a nice companion to KeySearch.
KeySearch vs Answer the Public
Answer the public is a website and keyword tool that scrapes Google's autosuggestions based on the keyword you enter into the website. It gives you answers in a search cloud image or your date list revolving around the "who, what, where, when, how, can, are, which, and will" questions.
When you click on the individual questions it will also open the actual google search. This website provides nice long-tail keywords. There is no information on search volume or the difficulty of ranking.
It has a free option and is a great tool to use in conjunction with KeySearch.
Is KeySearch Worth It?
Is KeySearch good for improving SEO ranking? In my opinion yes! It has the power to do effective keyword research, competitive analysis, and content optimization.
It has been truly helpful to me. Using this tool has improved my ranking and traffic for my websites.
For those who are starting out with SEO, KeySearch is a quality program for what you're paying. KeySearch prides itself on working to be a good alternative to higher-paid programs.
They also offer a lot of help and tutorials that can guide you through your SEO journey. This can benefit you as a small business, blogger, or niche website.
If you have any questions about this KeySearch review please leave a comment below. And if you are on the fence try a free trial to see for yourself.
If you are ready to sign up yourself don't forget to use my discount code KSDISC for 20% OFF!
Need Help? Check Out Our Keyword Research Services
If you need help with keyword research we also offer this as part of our content services. Using KeySearch for my keyword research tool has helped me rank articles for clients as well as my own websites. Learn more at the link below.
This KeySearch review was originally written on February 27, 2022.