I was looking at the calendar for this month and saw that today is the mother of all Taco Tuesdays. It is National Taco Day!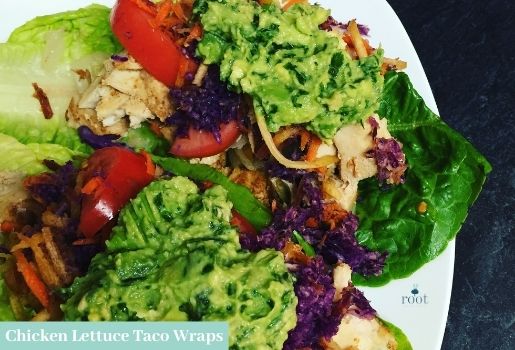 Some of these links are affiliate links, which means when you sign up or purchase from these links we may receive a small commission at no extra cost to you. However, we only promote products and services that have provided insight and been very helpful to us. JK Nutrition Consulting is also a participant in the Amazon Services LLC Associates Program, an affiliate advertising program designed to provide a means for sites to earn advertising fees by advertising and linking to Amazon.com.  Learn more about our disclosure statement.
Mexican is one of my favorite cuisines, but with my gluten sensitivity, I feel my best when I stay away from dairy, flour, and corn products. This means that cheese and tortillas are out of the picture. No worries!
I have found a way to still enjoy tacos and get more veggies in my diet. Enter the lettuce wrap!
This recipe for chicken tacos replaces the tortillas with lettuce wraps. I have also swapped the cheese for avocado to replace that creamy fat consistency. To get some extra gut-healthy nutrients I have added nutrient-rich red cabbage and lime.
This recipe uses an easy homemade recipe that my sister came up with. You'll be eating in no time at all!
Do I have your mouth watering? Want to make your taco vegilicious? Check out the recipe below: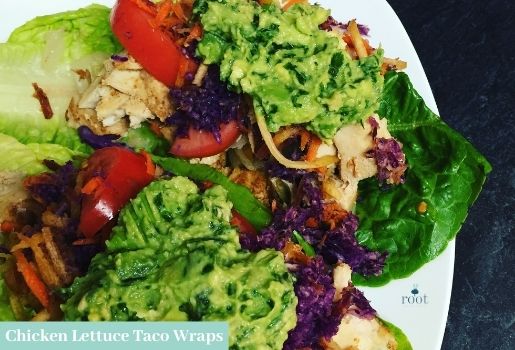 Chicken Lettuce Taco Wraps
Spice up your Tuesday with tacos! This recipe offers a tasty gluten and dairy free way to enjoy tacos
Ingredients
1

lb

Organic chicken breasts diced

1

cup

1 cup shredded red cabbage (1/8 of 2 lb cabbage)

4

large

Romaine lettuce leaves

1

medium

Tomato diced

1

medium

Yellow onion diced

1/4

cup

Cup water

1

medium

Avocado peeled and sliced

1

tbsp

Olive oil

1

small

Lime cut into four wedges
Taco Seasoning
1

tsp

Garlic Powder

1

tsp

Cumin

1

tsp

Cayenne pepper

1 tsp chili powder

1 tsp paprika

1 tsp ground black pepper
Instructions
Take the diced chicken and place it in a bowl with a lid

In a medium bowl place the taco seasoning, water, and mix well

Pour the taco mixture on top of the chicken, cover, and shake well to evenly coat the chicken

Let the chicken marinate in the taco mix for 30 minutes in the fridge

While the chicken is marinating get out a skillet put to the side.

Wash the tomato and cabbage and pat dry.

Take a cutting board and dice the tomato, onion, and cabbage, and set aside.

Cut the avocado in half then peel off the skin of one side. On the other half there will be a pit. De-pit the other half of the avocado then peel off the skin. Once you have peeled both sides cut it long ways so you have thin slices

Wash the lettuce leaves and let them dry on a dish towel.

In a skillet place the oil and heat gently for a minute

Pour the chicken mixture in the pan and cook until the chicken is fully cooked through (make sure there is no pink). Remove when it is cooked

In the same pan add the cabbage, and saute until soft.

Place a lettuce leaf on a plate and add a handful of chicken pieces.

Garnish with tomato, onion, cabbage, avocado, and lime juice. Fold up and serve